Here at Union Grove Lumber, we sell anything that comes from a tree!
We have multiple distribution points strategically located in the continental US. With our own fleet of trucks, we can track your products no matter where they are in the delivery process. To receive the best value, truckload pricing is encouraged. We welcome customer-pick-up for those customers with their own means of transportation.
Find Out More About
OUR LUMBER PRODUCTS
Additional Products
We also carry SPF Studs, SPF Dimensions, Pressure Treated Floor Joists, Pressure Treated Runners/Timbers, MiraTEC/Barn Trim, and more. Like we said, if it comes from a tree and goes on a barn, we distribute it!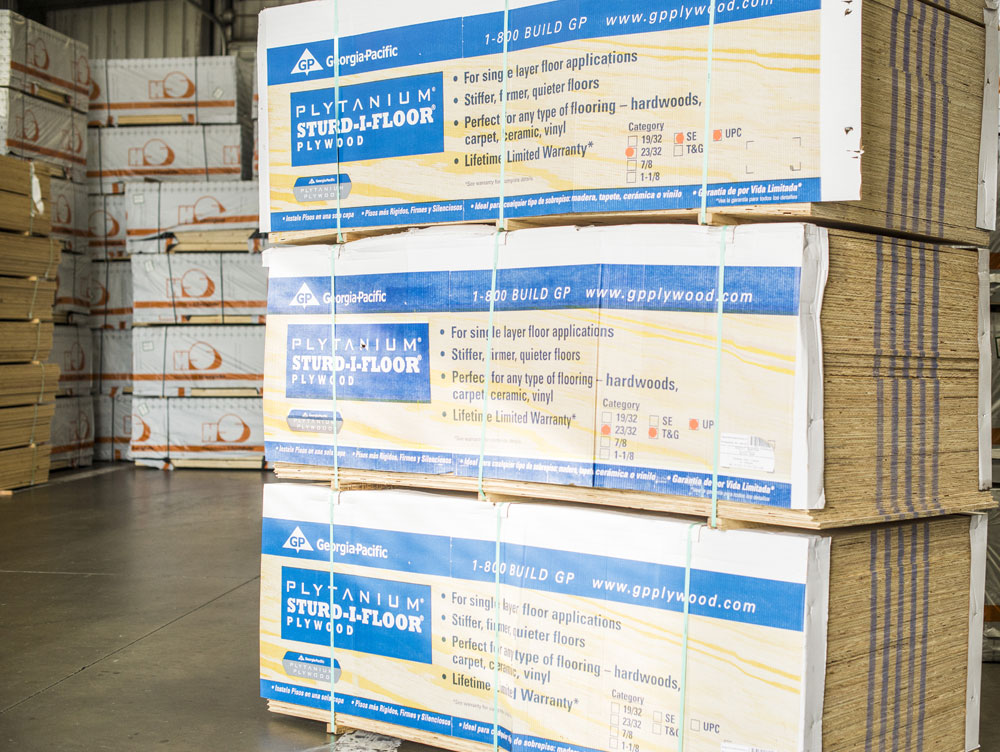 Plywood Flooring
We carry ⅝" and ¾" Square Edged and T&G Flooring from Georgia Pacific. Sturd-I-Floor® panels provide a smooth surface as well as dimensional stability and stiffness for sub-floor applications. This product offers a smooth, strong surface with a uniform consistency throughout, so you end up with a sleek look on your floor.
Read More
Benefits:
Span and exposure rated sub-floor

Effective fastener retention

Smooth surface; no core voids, knots or splits

Aesthetically appealing
Close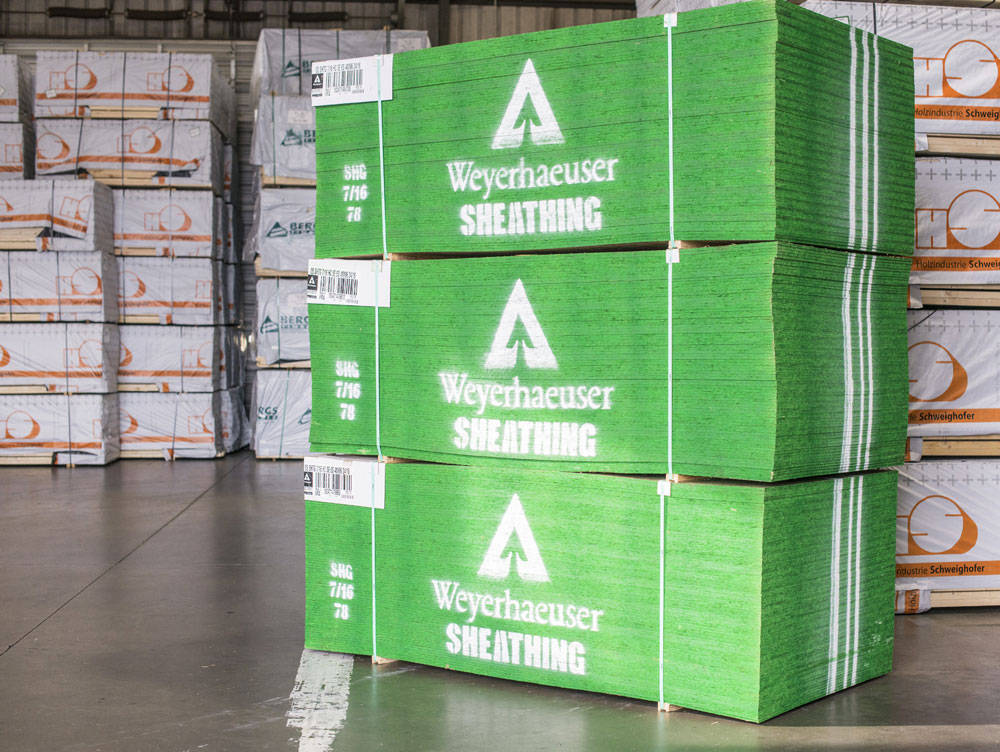 OSB Flooring
We carry 7/16" OSB Flooring from Weyerhaeuser. This is a versatile, engineered structural panel often used for floor decking and wall/roof sheathing. It is backed by over a century of experience manufacturing the highest quality products and sourced using only SFI certified raw materials.  
Read More
Benefits:
Sourced using SFI certified raw materials

Relied on by quality builders

Backed by a century of manufacturing experience
Close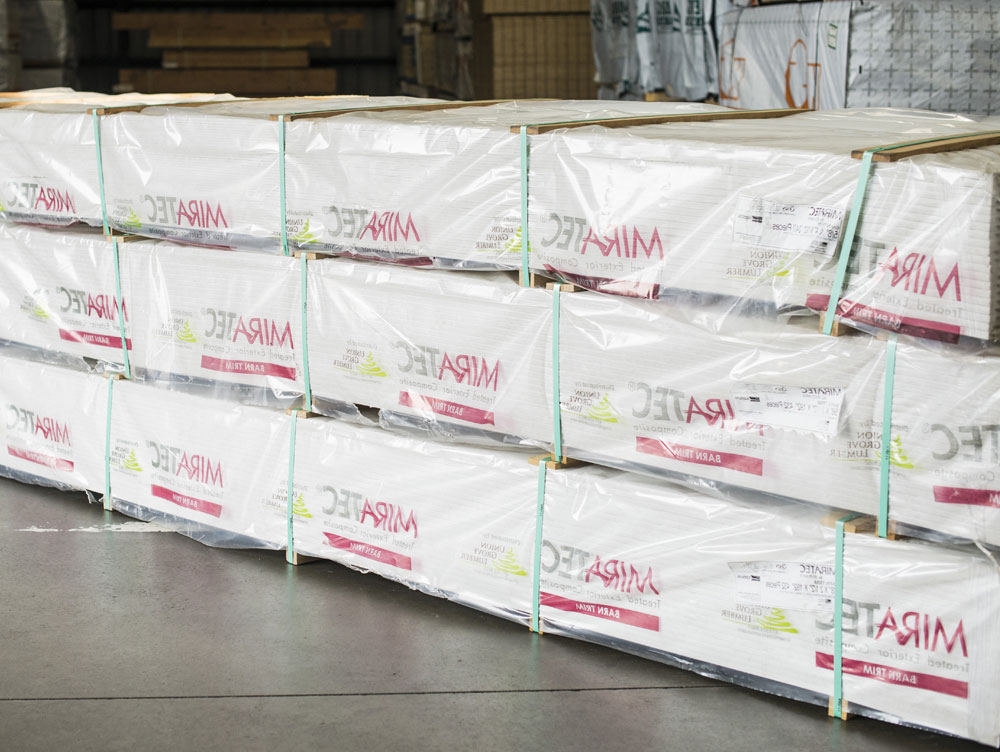 MiraTEC Barn Trim
MiraTEC Treated Exterior Composite Trim features wood grain texture on one side and a smooth surface on the other, allowing you to use the surfaces reversibly. This trim is resistant to moisture, rot, and termites but still handles just like wood – you can machine and route it with no problems. All 4 sides of this trim is primed to provide a high performance at a great value.

Read More
Thickness 5/8″ actual, 4/4 (3/4″ actual), 5/4 (1″ actual) and 1-1/4″ Smooth & Length 16′ in Widths: 3″, 4″, 5″, 6″, 8″, 10″, 12″, 16″ and 2″ batten
Benefits:
Authentic woodgrain texture

Resists moisture

Reversible

High performance
50 Year Limited Warranty
Close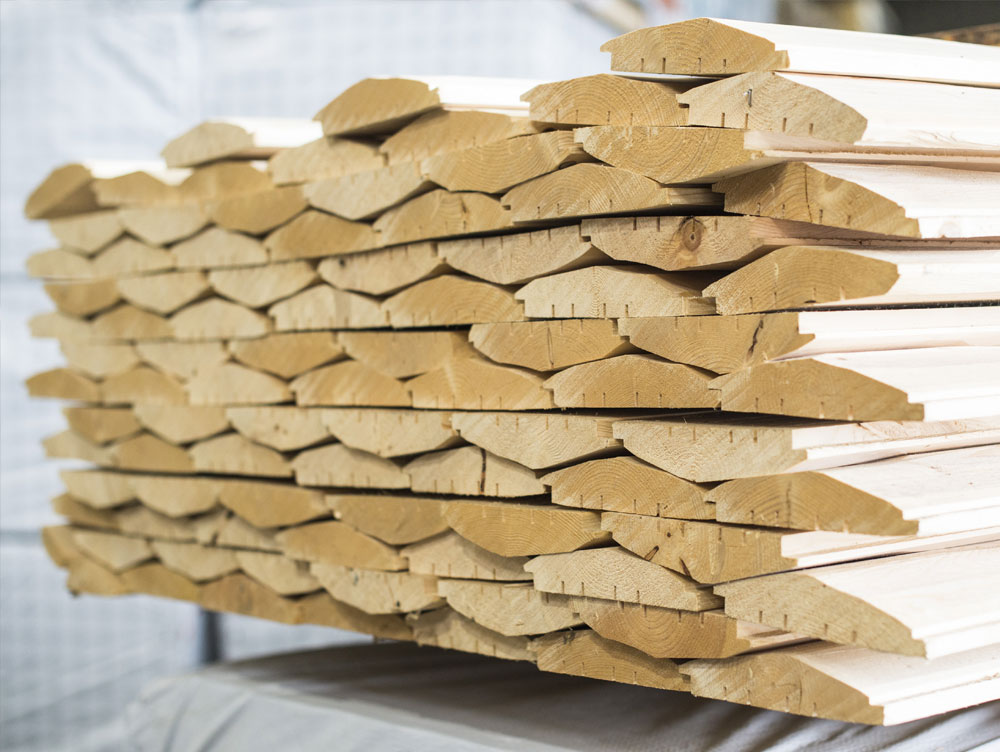 Log Cabin Siding
Log Cabin Siding is the perfect fit for a unique barn. This attractive white-wood, tight knot siding features the look of oval logs without the expense and workmanship of installing full logs. Log Cabin Siding allows you to integrate the rustic charm of a log home with a conventional frame. Engelmann Spruce and Lodgepole Pine Log Cabin Siding features kiln dried spruce and a ready-to-stain surface.

Read More
Our Log Cabin Siding is easy to install and can be used on the interior or exterior of your barn or shed for that authentic, cabin look.
Benefits:
Unique look

Dimensional stability

Excellent workability

Easy to install
Close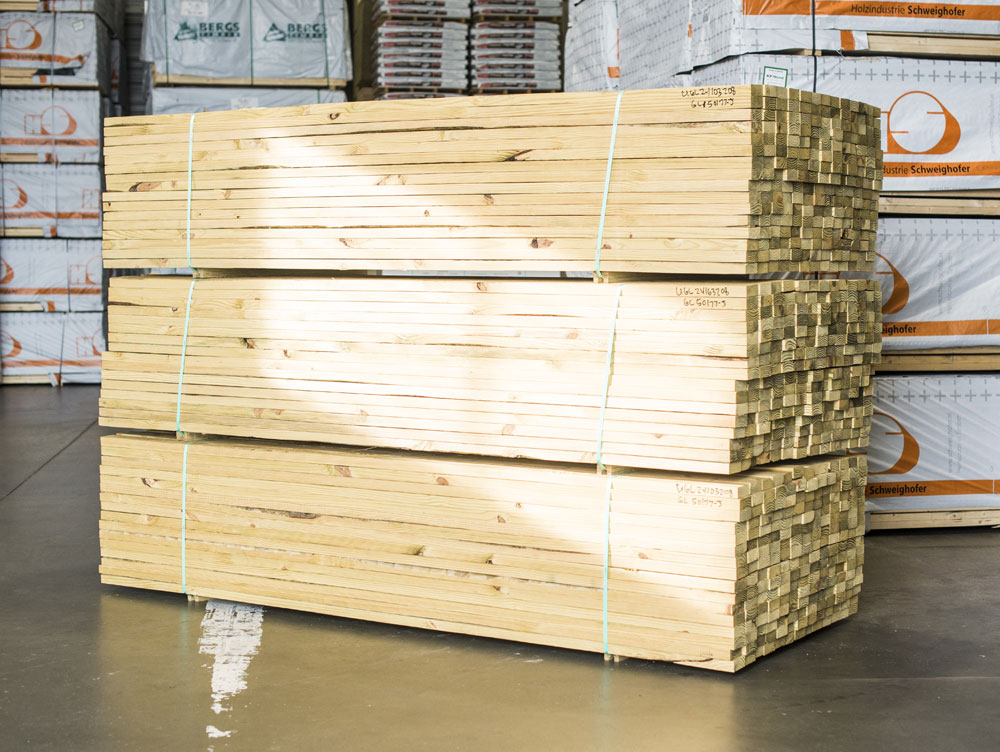 Pressure Treated Lumber
Floor Joists (Dimensional)
We carry a full line of dimensional floor joists, both 2×4 and 2×6, Southern Yellow Pine (SYP) in all lengths. Our floor joists are treated with dispersed copper to prolong the lifespan of the product.

Read More
Runners (Timbers)
We carry a full line of runners and large frame timbers, both 4×4 and 4×6, SYP in all lengths. We also are commonly stocked with special orders available for larger dimensions. Like our floor joists, our runners are also treated with dispersed copper to prolong the lifespan of the product. They can also be treated ground contact, upon request.
Decking
We carry 5/4" decking boards in common lengths, both standard and premium grades. Like both our floor joists and runners, they are treated with dispersed copper to prolong the lifespan of the product.
Close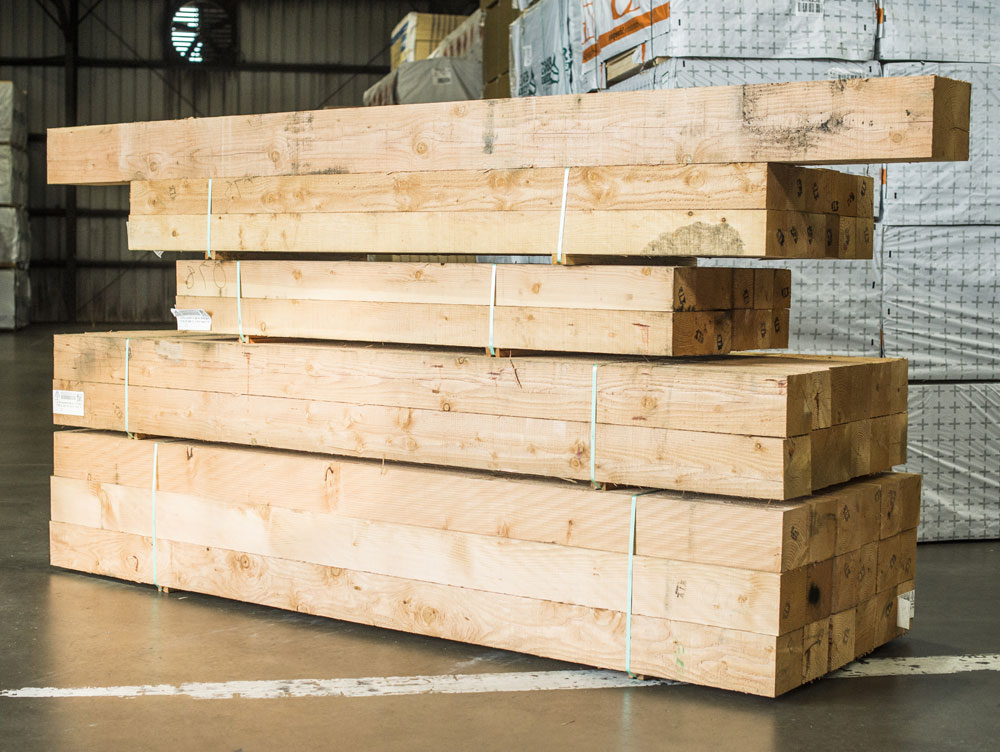 Cedar Timbers (Rough Sawn or Dressed)
We offer all dimensions of Cedar Timbers from 1×4 to 12×12 in all lengths. This product can be purchased rough sawn or dressed/smooth, depending on the buyer's desires. Cedar is naturally resistant to rot and repels insects. This lumber is durable and has a beautiful, red appearance naturally. It maintains a stunning look whether you leave it natural or stain it.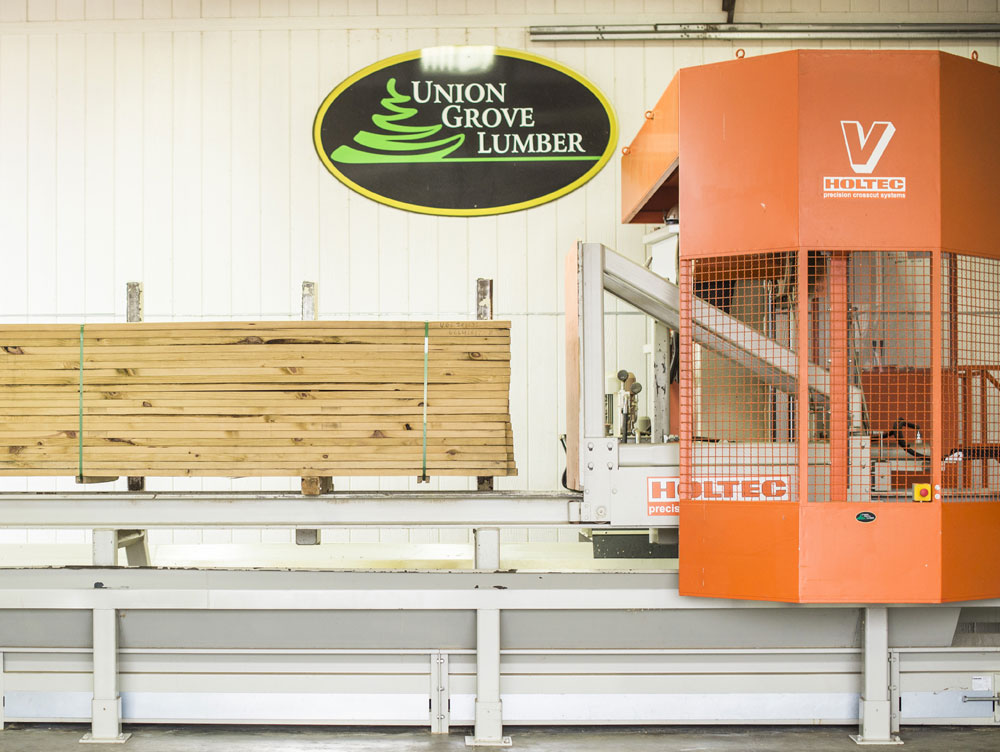 Precision End Trim
Our Holtec Precision Crosscut System is designed to cut whole units of lumber to a specified length in less than 60 seconds with an accuracy of +/-1mm (.040") and leave a planer finish. We can trim any unit of lumber to save your builders the time and hassle of cutting individual pieces. Contact us if you want to request a precision end trim (PET) for your lumber.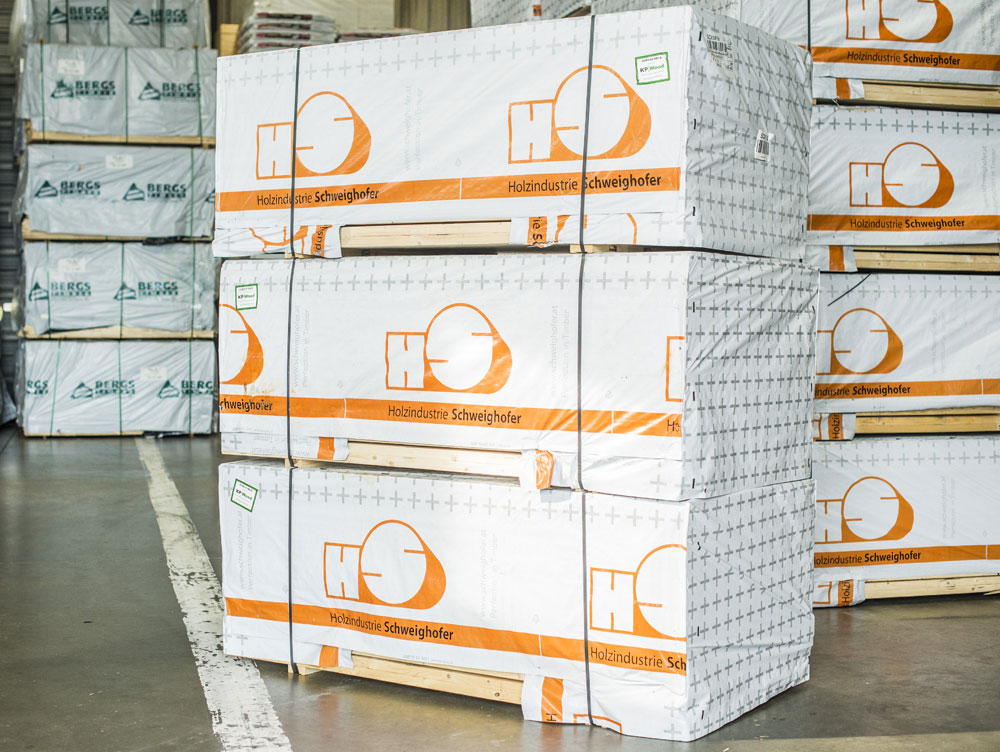 Spruce (SPF) Studs
We import spruce from all over the world, specifically from European mills. Because European mills have strict regulations on the squareness of the edges, these studs have the sharp and precise appearance your customers will prefer. The importation of this product provides a whiter wood with a clean, clear appearance–no wane and no stain. We carry this product in all 2×4, 2×6 and 2×8 dimensions–all common lengths up to 16'. Build your barns with a quality look from the inside out with our spruce studs.